A mini Valentine's stay in Marseille and its surroundings
Another year, another Valentine's Day! So if you want to do something really special for the one you love, consider a weekend in Marseille, one of the most beautiful regions of this most romantic country, France.
Provence is not only for summer. In fact, February, a month with daily temperatures of around 13 to 15 degrees and an average of 6 hours of sunshine a day, is the perfect time to take advantage of this romantic region without the hustle and bustle of tourists.
Take the opportunity to visit Manifesta 13, a biennial of contemporary art.
Provence is also a region that has something to offer everyone. You can opt for a getaway in a bustling city, nestle in a small village or enjoy the sounds of nature with miles of Mediterranean coast to explore. So what will it be? Whichever base you choose, all of these temptations are within an hour of each other.
Marseille
This ancient port city, with its eclectic mix of history and influences, will offer a lot for those who want a buzz as well as romance. Dynamic, vibrant, colorful, all in one, it offers a wide choice of hotels, small intimate cafes, views of the Mediterranean and French markets not to be missed.
Spend your weekend strolling through the old town (guided walks can be booked …) and soaking up the variety of viewpoints offered by Marseille, from the classic elegance of Boulevard Longchamp to the contemporary vision of Mucem located along the renovated seafront next to the Fort of Saint-Jean.
Take a romantic walk along the Corniche, a 5 km long road that runs along the sea. Picturesque views include period villas, scenes of the bay and the islands off the Frioul Islands. Wherever you go, cafes abound to share these moments of intimacy. What about Valentine's Day flowers? Come to the Stalingrad market square on Saturday for a selection of beautiful flowers.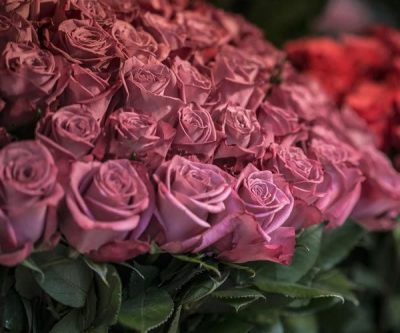 For accommodation, try the Edmond Rostand hotel near the old port of Marseille. Although it does not have the privacy of a small boutique hotel, a magnificent roof terrace at Les Trois Forts restaurant more than makes up for the view of the Mediterranean. It also has a spa with jacuzzi, hammam and sauna. If you really want to indulge yourself, what could be more romantic than the contemporary elegance of Petit Nice-Passedat.
Situated on a rocky outcrop, with a magnificent view of the sea, it has its own 3-star Michelin restaurant or, if you want a less formal dinner, you can go to the hotel's Bar 1917.
L'Epuisette, with its unrivaled location at the water's edge and its 9-course gastronomic "César" menu, offers local products. The Café des Epices, with its glazed veranda-terrace, offers typically French and intimate meals in an original and romantic setting with candlesticks draped in wax.
Aix en Provence
It's hard to beat the timeless elegance of picturesque Aix-en-Provence, with its tree-lined streets, old merchant houses and squares lined with cafes. The city was also the birthplace of Paul Cézanne and there is a walking path that you can follow to find the house of his childhood.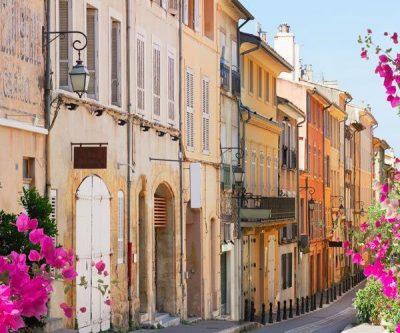 Wherever you walk, there is a feast for the eyes and the senses, from the Saint-Sauveur cathedral with its cloisters, to the bubbling fountain of the Place des Quatres Dauphins with its gurgling dolphins. Cours Mirabeau embodies the timeless elegance and romance of Aix with even more fountains, Renaissance buildings and street cafes.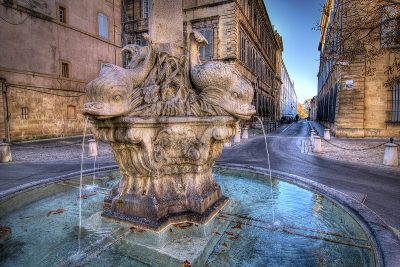 After strolling through the streets and absorbing the sites, treat yourself to a luxurious and romantic tea at Pâtisserie Weibel, 2 rue Chabrier. You can buy luxury Valentine's Day items at the Saturday flower market (currently located on the Place de l'Hotel de Ville) and the most sumptuous chocolates are provided by Philippe Segond's pastry shop at 67 Cours Mirabeau.
An excellent choice for a romantic getaway, the Hotel le Pigonnet offers 5-star luxury in 18th century elegance. Located in a magnificent two hectare garden, the hotel has a hammam for absolute relaxation.
The glorious Villa Gallici is decorated in a traditional and romantic French style with canopy beds, sumptuous fabrics, traditional bathrooms and a romantic terrace for al fresco dining, weather permitting. Another great choice for your stay is Maison d'Aix, which offers boutique luxury as well as an intimate swimming pool and hammam. After pampering yourself, you can sip champagne in the hotel's eclectic red lounge.
And for a little more variety … Cassis
With its picturesque fishing port and its ancient castle, its narrow coves and buildings in pastel colors, is a wonderful place for a romantic walk, with many cafes and bars to taste the local Cassis wine. Heading inland, the small hilltop village of Castellet, near the famous Paul Ricard circuit, with its small cobbled and winding streets, is the ideal place for intimate moments.
This walled city offers a wonderful glimpse of its medieval past with beautifully restored buildings.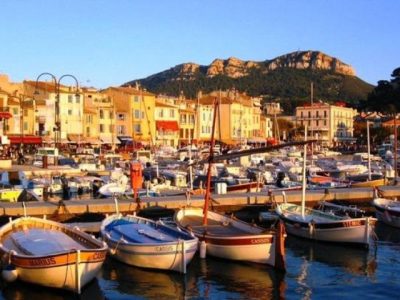 Just outside the pretty Bandol resort, you will find the glories of the Hôtel Bérard at La Cadière d´Azur. The hotel offers not only the luxury of the La Cadière spa, but also the ultimate in gastronomy at the 1-star Michelin restaurant, Jean-François Bérard, as well as at Bistro de Jef, where you can dine under the stars. , protected by the glass roof of the Bistro.
Finally, the Calanques National Park offers a breathtaking view of the cliffs and the sea and, in February, you will have this amazing landscape almost to yourself. The perfect place to hold hands and profess your everlasting love!
EVENTS AND FESTIVALS OF SAINT-VALENTIN IN MARSEILLE
Concerts, romantic dinners and activities in Marseille
Love is in the air and many of you love birds may be planning to woo your soul mates with gifts and are probably looking for gift ideas for them.
For this Valentine's Day, offer your loved ones an event experience in romantic places that they will cherish all year round. There are a lot of popup dinners, dance parties for couples, pre-Valentine balls, Valentine's Day games and many other events taking place in Marseille during Valentine's Week 2020.
Book your evening for Valentine's Day events and celebrations in Marseille.